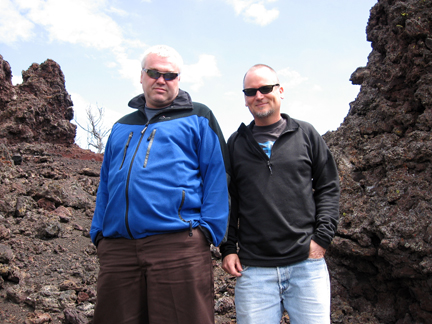 Andrew Pask and Jeff Kaiser at Craters of the Moon National Park, photo by Craig Green
Andrew Pask and I are having a great time in Idaho. (Barring this three day bout of flu that I've had...still trying to kick it.)
After being picked up from the airport by my friend, musician, and director of the Boise Experimental Music Festival, Krispen Hartung, we had a lovely evening with a very special Belgian ale blind taste test. Absolutely fantastic. Four rounds, three beers each round (no we weren't drinking all, just tasting!) consummately hosted by Krispen's wife, Charissa, who put together a wonderful experience complete with notes and reviews of "professional" tasters that were read afterwards. Our friend and musician Rainer Straschill from Munich was also there. Some very interesting surprises, no time right now, but if someone pressures me, I will post the list.
Up Wednesday and had the lovely four hour drive to Idaho Falls. A gorgeous drive. Our host for this leg, Craig Green, had arranged for a GREAT gig at The Art Museum of Idaho. I gave a lecture on improvised music and computers in the afternoon, and then we performed in the evening (first set by Craig and Krispen), followed by a Question and Answer session. I've had some "rough" experiences with Q and A's before, but this audience was great, diving in with interesting and challenging questions, quoting the likes of Emily Dickinson about music (!) and asking for a response, inquiring about all aspects from inspirations to technology...delightful.
We went the back way to Boise on Thursday morning, so I could visit my beloved Craters of the Moon National Park, then on to the opening gig for the festival. Performers tonight were, Bob Sterling, Ted Killian, Gretchen Jude, Craig Green and Krispen Hartung. More later...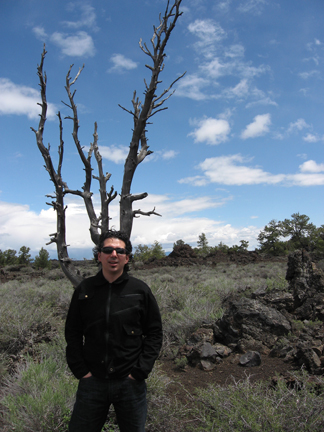 Craig Green at Craters of the Moon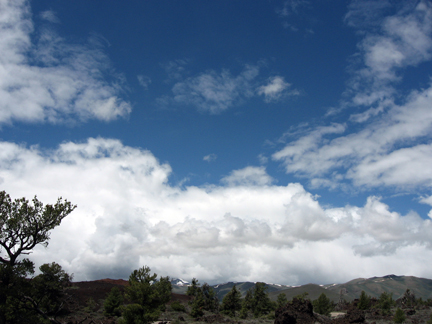 The sky....somewhere near Sun Valley...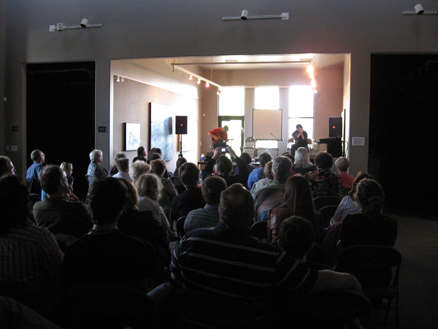 Krispen Hartung and Craig Green performing at The Art Museum of Idaho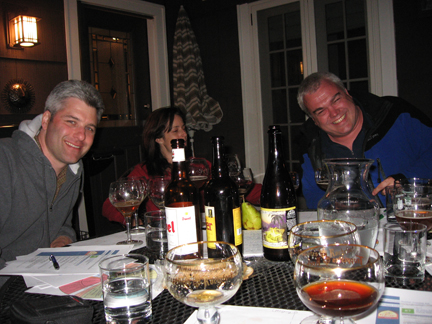 Krispen, Charissa, Andrew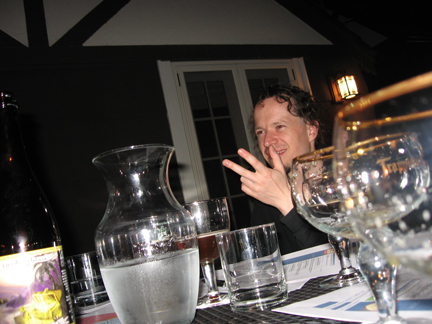 Rainer Straschill