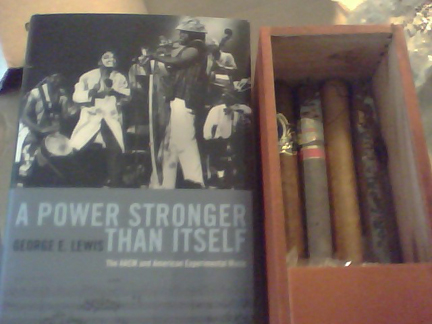 Feels like Christmas, only at 75 degrees. So, I guess it feels like Christmas always does in So Cal.
But here is why: After being backordered (on the first day of release!) I finally received my copy of
George Lewis's book on the AACM,

A Power Stronger Than Itself

. Run out and buy or order this book.
Just skimming through it is a wonder. More later after I've read it.
BUT, in the meantime,
Read an article on George Lewis and the AACM in the New York Times by clicking here.
And, it came at the same time as a new gift of cigars from my friend and pfMENTUM co-founder, Keith McMullen.
(1) Legend Series - Rocky Patel
(2) Gurkha Legend Torpedo
(3) Edge Lite Toro
(4) Sol Cubano Cuban Cabinet Fundadore
(5) Gran Habano 3 Siglos Torpedo
(6) Gran Habano Corojo Blend #5 Pyramid
(7) "Original" Cuban Belicoso
A great day.