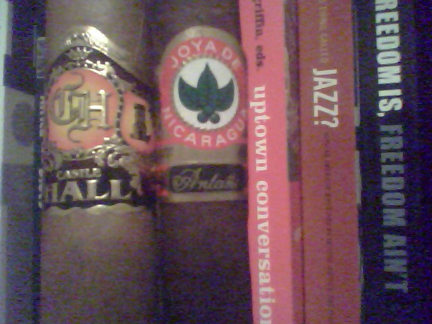 If the themes for my thesis had to come from cigars, the cigar company 5 Vegas would have them down (Keith sent me this link):
The 5 Vegas Series 'A' Mega-Sampler includes:
5 - 5 Vegas Series 'A' Artisan (5" x 52)
5 - 5 Vegas Series 'A' Archetype (6" x 50)
5 - 5 Vegas Series 'A' Alpha (6" x 52)
5 - 5 Vegas Series 'A' Apostle (7" x 50)
"Covered in a lovely Costa Rican wrapper, this savory handmade combines a 4-year-old recipe of bold long-fillers from three different countries. The result is downright sublime. A robust series of toasty, earthy flavors paired with rich coffee undertones and a touch of cocoa greet the palate, resulting in a toothy grin and wide eyes. A subtle hint of spice is unmistakable, while the Spanish cedar sleeves add a nice woody component to an already complex bouquet. Medium to full-bodied and loaded with flavory goodness." CigarsInternational.com
I've never had one, but the names resonate with me.
This weeks smokes (last Thursday) were a Gurkha Castle Hall Churchill and a Joya De Nicaragua Antaño 1970 Machito. The Castle Hall was a bit of a dissapointment, the tip crumbled on clipping (yes, it was well kept in my humidor) and from its first draw there was a strong metallic taste, somewhat like chemical fertilizer or, buddha forbid, insecticide. After the taste continued, I had to put it down. Not a great smoke for a cigar rated 90 by Steve at CigarsInternation.com. They are a great source of cigars and supplies, but don't trust that guy's reviews, he gave my desert island cigar (Artur Fuente Hemingway) an 86. He probably smokes so much he dulled his sense of taste. Except for the fact that we agree on the next cigar, the Joya De Nicaragua Antaño 1970 Machito. I've smoked several different sizes of this cigar, and due to the strength, the smaller Machito is perfect for me. Not a desert island smoke, but a delicious, full-bodied one. Almost erased the Castle Hall from my memory. Peppery start, woody, robust. I nubbed this one: