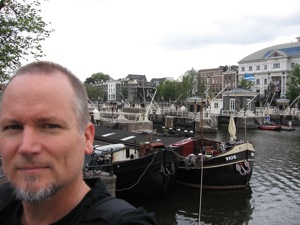 On Herengracht, walking around the corner from the STEIM's guest house to the studios.
(Click any image to enlarge.)


I made it to Amsterdam, quite comfortably, actually. First class is even different in the trains...it was on sale for an extra twenty euro, so I splurged....well worth it for 6.5 hours...

I'm here at STEIM Laboratories for the next three weeks for an artists residency. I'll elaborate more on my project as it develops. The folks here have been awesome, as they were last year. Nico Bes is incredibly helpful, and pleasant as well. Takuro Mizuta Lippit, the artistic director, is currently in France, but has also been quite helpful via email. I'm moved in to a comfortable room in the guest house, my studio is set up. I've been able to meet and hang with interesting people, both visitors (Joe Deebs), some more involved/employed on a regular basis with STEIM (Daniël Schorno,
Esther Roschar,
Jorgen Brinkman,
Frank Baldé, Robert van Heumen) and Fulbright Scholar John Rauss who is here developing software. Joe Deebsand I (I hope I'm spelling his name correctly) went and walked around town, had a Maoz Falafel and an incredible Belgian IPA from La Chouffe at Cafe Gollem last night...but now it is to work. I spent the morning doing a second draft of my Fulbright application, and now I'm off to meet Dana Jessen

and Michael Straus, former Fulbright recipients who said they'd go over it with me...busy day already...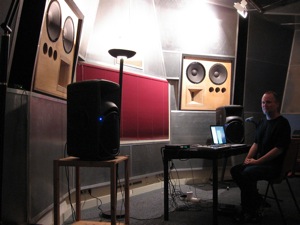 My studio at STEIM, where I will be spending a lot of time the next three weeks...look at that pose....autotimer should've told me to unclasp my hands...(the large wood speaker cabs are non-functioning, but sure to look cool)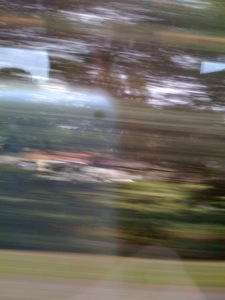 What all my photos on the train ride looked like...should have increaded the shutter speed....maybe?