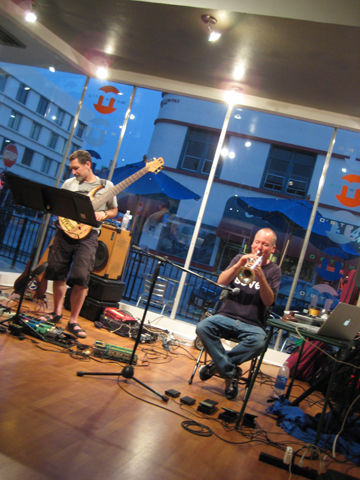 Steuart and I at the Metro Gallery in Bakersfield
Photo by Kris Tiner

"Triumphantly weird" is how the VC Reporter heralded my first return show in Ventura since leaving for school in San Diego. I like it: catchy, nice ring to it....and between the wonderful support of the Reporter, The Ventura County Star, and the owners of the venue (Steve and Polly!) we had a packed house at
Zoey's
...nice to hang with all my friends from the town.
All around, Steuart Liebig and I had a great mini-tour (tour-ette, as he called it), all the shows went well and were recorded. The other gigs were in Santa Barbara, Bakersfield, and Laguna Beach. We were joined by James Ilgenfritz's trio with Jonathan Moritz, and Chris Welcome. (They were joined, to great effect, by Kris Tiner on the Bakersfield date.) Great music,great enjoyment. The Laguna gig was a house concert unlike any I've ever done, great food and drink, but also packed, and they really enjoyed the music.
Here's some notes from the press....
From the VC Reporter
Picks of the week
Jeff Kaiser comes to town
07/10/2008
Jeff Kaiser Local musician Jeff Kaiser has long carried the torch for the avant-garde in Ventura County. He created the New Music Festival, an annual tribute to the freaky, far-out and plain weird players toiling on the fringes of the music universe, as well as the labels pfMENTUM and Angry Vegan. Even beyond those testament to the eccentric, however, is Kaiser's own oeuvre as a trumpeter, which sits on the border between the classical and the iconoclastic. His award shelf is stocked, but it's best to let the musical explorations speak for themselves. Kaiser left town last year to attend a doctoral program in San Diego, but his homecoming at Zoey's on July 12 is sure to be a triumphant one. Triumphantly weird, of course.
From the Ventura County Star:
Sonic wizard to blow in
Avant-garde trumpeter, composer and conductor Jeff Kaiser, who left Ventura last year to pursue a doctorate in "critical studies and experimental practices" (yes, this is a music degree) at UC San Diego, is returning north this weekend for a gig at Zoey's. He'll perform as a duo on his quartertone trumpet with contrabass guitarist Steuart Liebig and bring along Trio Caveat, a New York City ensemble.
Admission to the all-ages concert will be free, Kaiser said, "so my friends can get in, as they are all poor musicians."